... blog post:
It all started with a Yashica Electro 35 GX, this love affair of mine with 35mm rangefinder cameras. A beastie that is still in my collection to this day.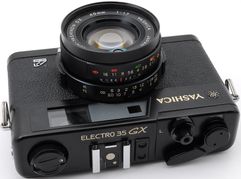 This is a lovely little compact 35mm film camera with its electronic Copal shutter, fixed Yashinon 40mm f1.7 lens, aperture priority exposure, parallax corrected rangefinder, bright optical viewfinder and ergonomic controls; it's a beauty.
Image quality is excellent and low light working is great due to the combination of the fast f1.7 lens, ASA (ISO) range up to 800 and slow shutter speeds down to 30 seconds. Top speed of the in-between-the-lens shutter is a modest 1/500th though, something to be thought about when using high speed film and still wanting to use wider apertures on a sunny day.
This is the camera that started me on a journey with a long succession of rangefinder cameras culminating recently in the Leica M10 arriving in my collection as my main working camera.
As J.R.R. Tolkien wrote in The Lord of the Rings ,"It's a dangerous business, Frodo, going out your door. You step onto the road, and if you don't keep your feet, there's no knowing where you might be swept off to".
Well, I stepped onto the road long ago with my 35 GX and I am still being swept along 😎...