Back in 2005 Kyocera announced that "they had decided to terminate their CONTAX branded camera business due to difficulties in catching up with the recent rapid market changes", despite having launched the world's first ever full frame D-SLR. Crazy or what? Well, perhaps not.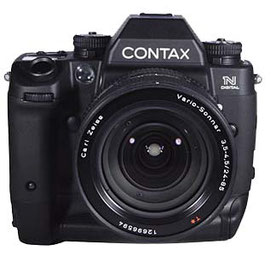 The camera, launched in 2002, was the Contax N Digital that had a Philips 6mp CCD imaging chip and came with an excellent range of top quality Zeiss autofocus lenses as follows:
Planar T* 50mm
Planar T* 85mm
Vario-Sonnar T* 17-35mm
Vario-Sonnar T* 24-85mm
Vario-Sonnar T* 28-80mm
Vario-Sonnar T* 70-200mm
Vario-Sonnar T* 70-300mm
Makro-Sonnar T* 100mm
Tele-Apotessar T* 400mm.
It had the potential to be a ground breaking big hitter but... it got a very mixed reception.
Typical comments at the time included:
"It had outstanding image quality making it especially suitable for fine art, portraiture as well landscape photography and it's studio performance was outstanding".
"It was let down by some serious limitations like very high power consumption, a small and slow buffer, poor performance in low light, a limited selection of high-speed lenses making it unsuitable for photojournalism and finally it was over sized, heavy and expensive".
"The biggest problem seemed to be that the camera's hardware capabilities were far ahead of the software and firmware developed for it".
It seemed that Kyocera either were not in a position to fix any of this quickly or were unwilling to do so, not seeing it worth the return on the investment maybe? So the whole thing was withdrawn a year later without a replacement.
Kyocera also dabbled in Contax digital compact cameras in the mean time with the 
U4R
i4R
SL-300RT
TVS Digital
Anyone remember them? No, me neither.
But in 2005 Kyocera got out of the camera making business entirely including all of the film cameras too, including the 645 Professional, 35mm SLRs, G Series Rangefinders and T series compacts marking the end of the illustrious Contax camera brand name.
There was shock and a gnashing of teeth amongst industry pundits and the wide base of loyal customers over what was seen as this short sighted, short termist strategy and the wanton destruction of a beloved brand with its strong, long established presence in the market.
Step forward 15 years and, given the state of the current market, were they wrong to do what they did back then? I would now say, "No they were not".
Maybe they had a crystal ball or simply some very good market analysts who understood the long term view, could forecast a shrinking global market and their increasingly vulnerable positioning within it?
Nowadays Kyocera are still out there focused on their core strengths, products and markets unencumbered by a struggling/loss-making imaging division unlike most corporations still with a camera making business now are.
They had the the sense to test the digital water, not like what they found, then decide that the investment was not worth the long term returns. They had the courage not to throw good money after bad and get out of the business all together. Sound corporate strategy.
I wonder how many of the current struggling businesses now wish they had done the same?